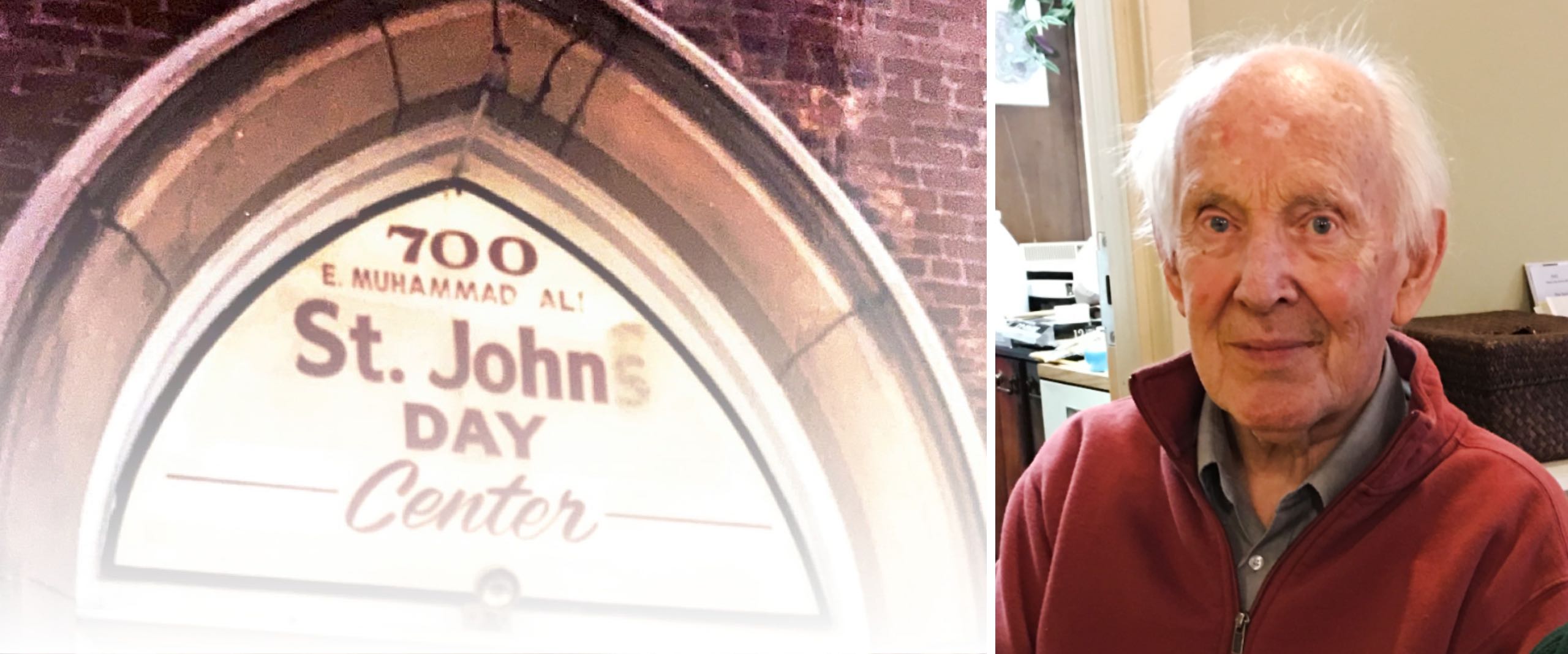 In 1986 I was a congregant at Christ Church Episcopal Cathedral in downtown Louisville. I had survived the five years since my divorce, during which I had faced loneliness but was buoyed by the presence of five lively children, some of whom were in school while others were in college. It was at this point that I felt an urge to participate in the homeless ministry which I knew was being pursued at the Cathedral.
I was introduced to the homeless ministry at the Cathedral by a fellow congregant who took me into a basement room where a group of homeless men were drinking coffee, talking, or just relaxing. One was providing entertainment on a rather ancient looking piano. It was explained that these rather cramped quarters had become too small for the ministry and were about to be closed. A new ministry called the St. John Center for the Homeless was opening in an unused Roman Catholic Church on Muhammad Ali Boulevard at Clay Street. I was advised that, if I wished to be a volunteer in this new ministry, I should contact the new ministry's director, Sister Kathleen Sheehan.
The St. John Center had its origin in a Task Force on the Homeless set up by Mayor Harvey Sloane in July, 1984. This Task Force reported to the Mayor in June 1985 and, among their recommendations, the Task Force urged that at least one Day Center for the Homeless be established. In December 1985 the Mayor set up a local Coalition for the Homeless and pledged to help the Coalition find a location for a Day Center. The St. John's Church had been unused for mass for about a year and the Coalition was able to lease it from the Diocese for $1.00 per year. Local contractors provided their services for needed renovations and changes free of charge. The Center opened its doors to the homeless in the spring of 1986.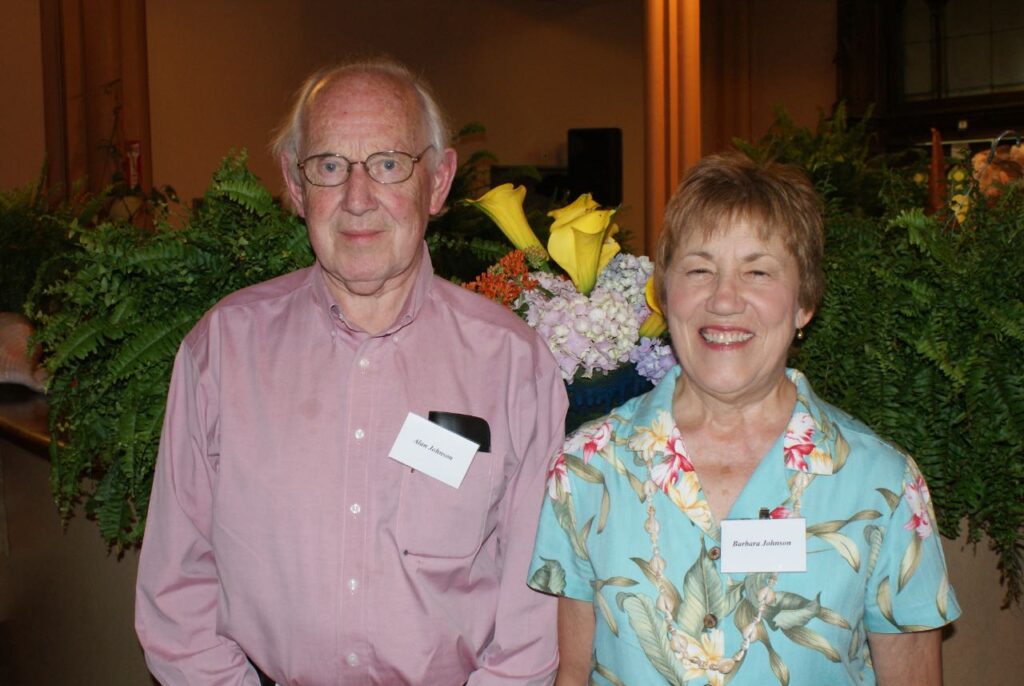 I visited Sister Kathleen to sign on as a volunteer shortly after the Center opened. The church, even though it was now altered to provide facilities for its new role as a homeless shelter, retained its serenity and dignity. I was impressed by the beautiful altar and stained glass windows. The recent changes provided tables and chairs in place of pews and included new shower and coffee rooms. Sister Kathleen gave me a regular weekly volunteer assignment and I started work almost immediately.
During these early days at the Center, guests came in through the front door and registered at a desk, staffed by one of the volunteers on duty, back near the altar. They then, if they wished, could register for an overnight stay at one of the overnight shelters. The largest was Frank's Mission, which is now known as The Healing Place. There were, as now, also Wayside Mission, the Salvation Army, and several others. Late in the morning, a volunteer would call each mission and read out a list of men who had registered to stay that night. The atmosphere was informal, with volunteers frequently playing cards with the guests. Smoking was allowed.
For those of us who were volunteering at a homeless shelter for the first time, the first months provided a profound learning experience. As we progressed, Sister Kathleen and her staff taught us to treat the growing number of guests with respect, to give them complete acceptance, to listen to their stories with sympathy, never to proselytize and never to give them money. The guests were mainly men many of whom suffered from mental illness or substance abuse disorders. Many had been ejected onto the streets when institutions treating mental illness closed.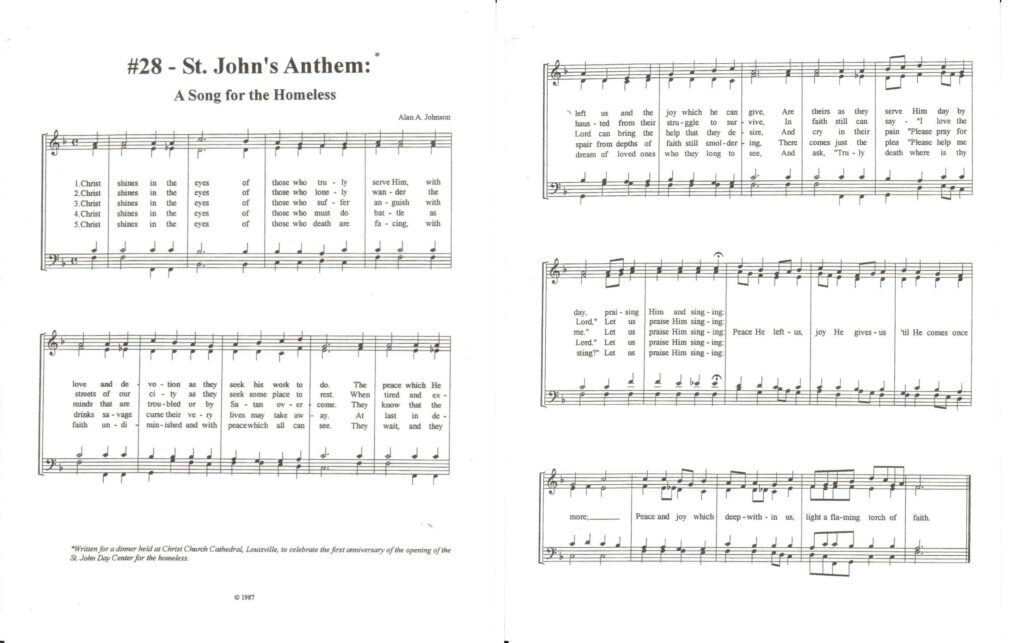 Early in 1987, 8 months after I started volunteering at the Center, I encountered a new volunteer whose name was Barbara Pinkerton. It was her first morning at the Center. We met in the coffee room and lingered to chat. I learned that she was the wife of someone I knew casually at the University of Louisville. They were in the process of obtaining a divorce. My relationship with Barbara developed and, in July, after the divorce was finalized, we began dating. We were married at Christ Church Cathedral on March 11th, 1990. We were honored that Sister Kathleen, some of her staff. and some of the men from the Center attended the wedding. Barbara and I will be in our 35th year as volunteers together at the St. John Center as we return to the Center following the decline of the Covid 19 pandemic.
---
Alan Johnson has been a St. John Center volunteer for 35 years. He was born and raised in England, where he attended Reading School and Reading University. Alan holds a PhD in Physics and his impressive career includes positions at the Imperial College of Science and Technology, London University, at Brooklyn Polytechnic Department of Physical and Engineering Metallurgy, as Scientific Advisory to Mayor John Lindsay of New York City, as Chair of the Department of Materials Science and Engineering at Washington State University, and finally to the University of Louisville.