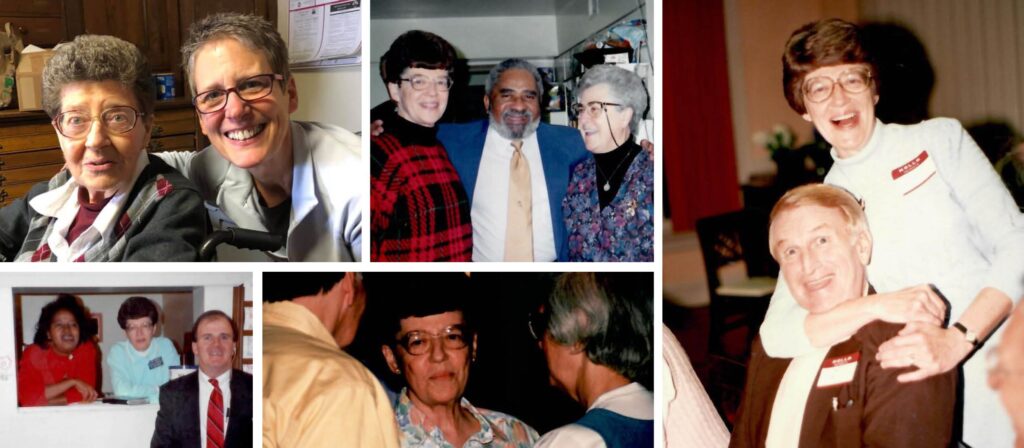 Sister Pat Worley, SCN, arrived at St. John Center just a few months after the day shelter opened in 1986. She joined Sister Kathleen Sheehan as the second paid staff person for the organization and served St. John Center and our guests for over a decade. She describes her time here as "a chance to really love people."
Sister Pat knew from the time she was 12 years old that she would join the Sisters of Charity of Nazareth. She grew up in Roanoke, Virginia and her teachers were always SCNs. "I loved the way they put on their caps and adjusted their collars. It thrilled me to death! I just wanted to go in that house and see how they lived. And God does that! That's how he shows you where to go."
"I never had a good intention!" says Sister Pat, remembering that as a girl she and a friend joined the Girl Scouts, not to do good deeds, but because they heard the Girl Scouts had good snacks! "I had all the wrong reasons, but God called me — and God wanted me."
And so Pat Worley came to Nazareth on January 18, 1954 and made her first vows in 1956. Sister Pat worked in schools as a teacher or a principal, and then as Vocations Director for the Sisters of Charity of Nazareth. She loved her work, but when she read about St. John Center opening, she went to visit Sister Kathleen to see if she might have a job for her. "I never got my hands dirty" she said, "And I wanted to do that. So I went down and asked Kathleen if she would have a job for me there."
"It was a wonderful thing to work with people who were in great need, and not with people who had everything…" she remembers.  "The people at St. John Center were people who needed someone to talk to, needed someone to love them. I spent a lot of time loving those guys. "
Sister Pat also learned a lot of new things during her time at St. John Center. The guys at the Day Shelter taught her to play the card game Spades. She says she enjoyed it so much that Cleve Perkins, who was on the board at the time, reported her for playing cards too much! (I'm not entirely sure that this is true – Cleve also offered to get Sister Pat a baseball cap with a mirrored brim so she could improve her play!)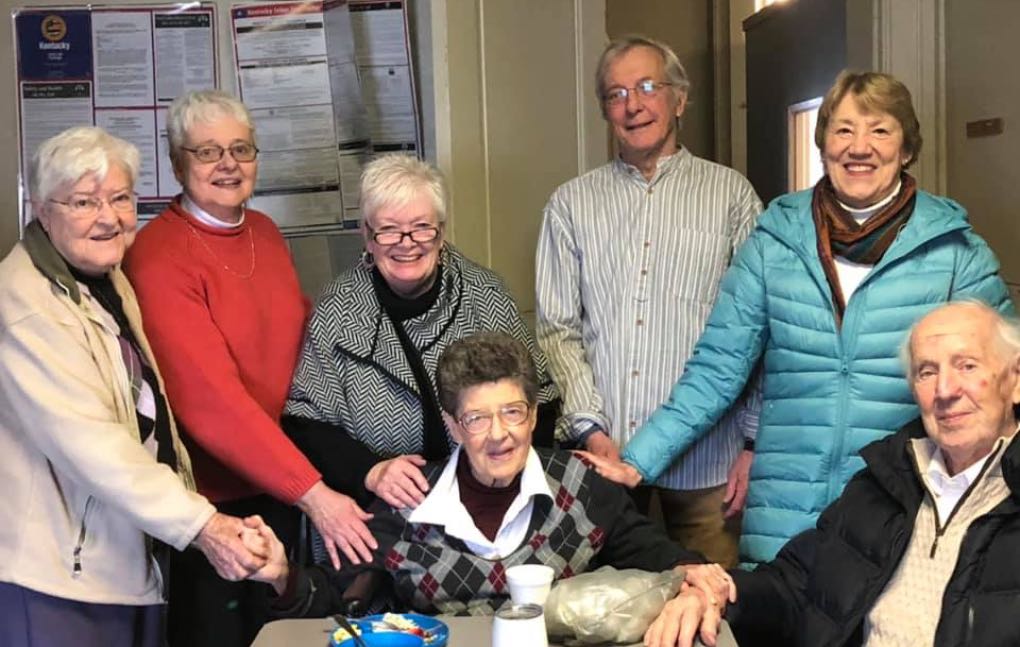 Even if she did enjoy a game of cards once in a while, Sister Pat left a powerful legacy in the volunteer program she built from the ground up. She met every month with the volunteers, and together they learned how to effectively operate the day shelter, to welcome and call each guest by name, and to treat each moment with each guest with dignity and love.
She admits that they learned a lot over the years. "When we first opened we didn't have any help to clean up. So we asked the guys who came in to help clean up – so we gave them a pack a cigarettes to help! Isn't that terrible?" But in time, St. John Center grew and new staff joined.
Throughout her time here, Sister Pat was a loving presence for everyone who came to St. John Center.    She recalls one afternoon she spent sitting at a table with a woman who came to the day center struggling with active addiction and loneliness.  Sister Pat had the gift of putting everything else aside and just being with the person in front of her.  She says that about a year later, the woman returned to SJC and said "Sister that was the most wonderful time talking with you. I never had another drink after that.  I just didn't feel as lonely as I had."
Sister Pat worked at St. John Center for 13 years, eventually serving as Associate Director. In all that time, three things hung on her office wall: a picture of Sister Pat and Denny Crum from the day he visited St. John Center, a U of L basketball schedule for the current season, and a picture of Pervis Ellison. She was loved by the guests who came to St. John's, by the volunteers, and by her colleagues.
Sister Pat went on to serve as the coordinator of Russell Hall at Nazareth and she lives at Nazareth today. Last year, before the pandemic shut so many things down, Sister Pat made a visit to St. John Center. She walked through the Day Shelter and could hear guests she knew calling to her. "I loved that," she said. Sister Pat's time at St. John Center was a spent loving and serving. "St. John has really has been part of my loving people … and just wanting to help them to realize that no matter what God loves you, and no matter how many times you think you mess up … its OK! God loves you."
---
Jane Walsh is Director of Mission Advancement at St. John Center. In 1996, Sister Pat hired Jane to serve as Volunteer Coordinator at St. John Center – thereby changing her life forever!